Parenting a young family quickly becomes overwhelming, especially with the busyness the holiday season brings. Like many others, we want to create traditions and engage in only the most meaningful activities, all while keeping it simple during the holidays. It's a bit of a tall order! When our firstborn was two years old, such a purchasable book or guide didn't exist so we created our own Jesse Tree Advent guide that felt so right during our early parenting years that it's now a lasting tradition in our family for almost a decade. The Jesse Tree is a family-oriented daily devotion throughout the Christmas season, becoming a tradition that traces the foretelling and ancestry of Jesus through the Old and New Testaments. 
Now all our kids look forward to the tradition of Advent and know it as the purpose for the Christmas season. The guide combines two traditional components–the daily Jesse Tree readings plus the four Sunday candle lightings of Advent. The Jesse Tree explores the foretelling of Christ's coming across 4,000 years of history while each weekly Advent candle represents 1,000 years of this foretelling. Pretty neat!
We've tweaked and expanded the Advent guide each year, painting our own watercolor ornaments, shareable music playlists, and a homeschool companion guide full of passage recitation, art studies, poem studies, composer studies, and hymnal studies. 
Candle lighting
_______
Scripture readings
_______
Prayer
_______
Singing
_______
Ornament hanging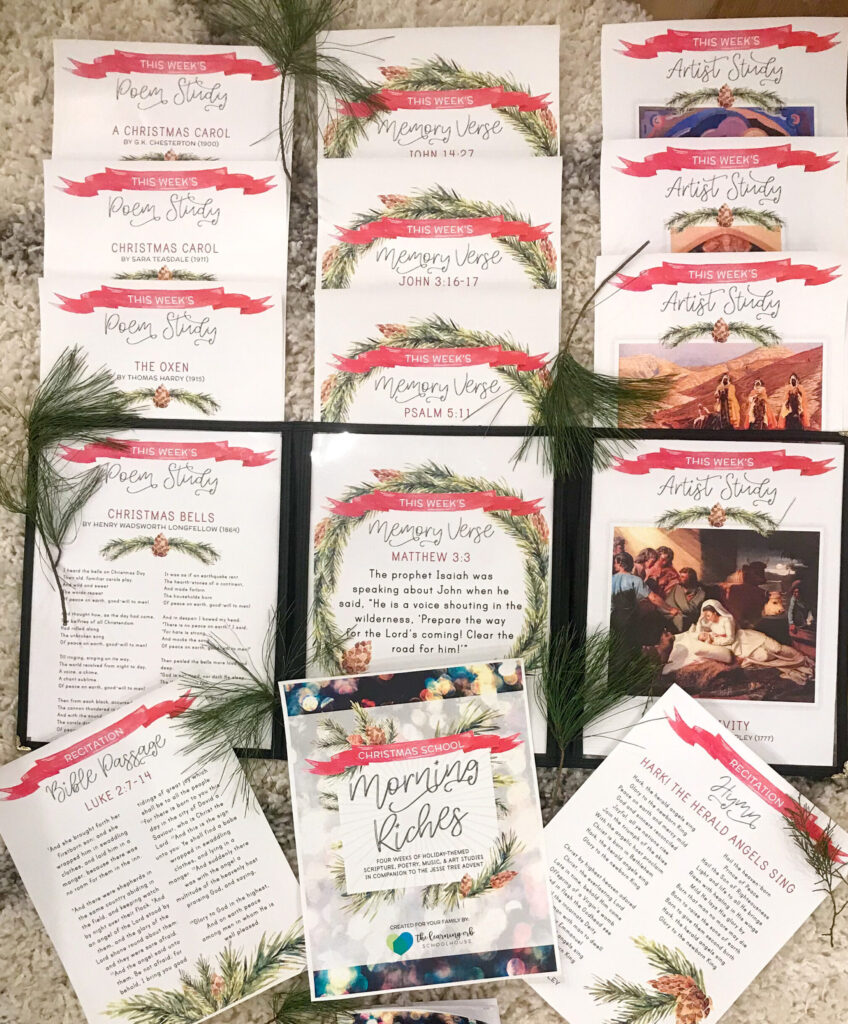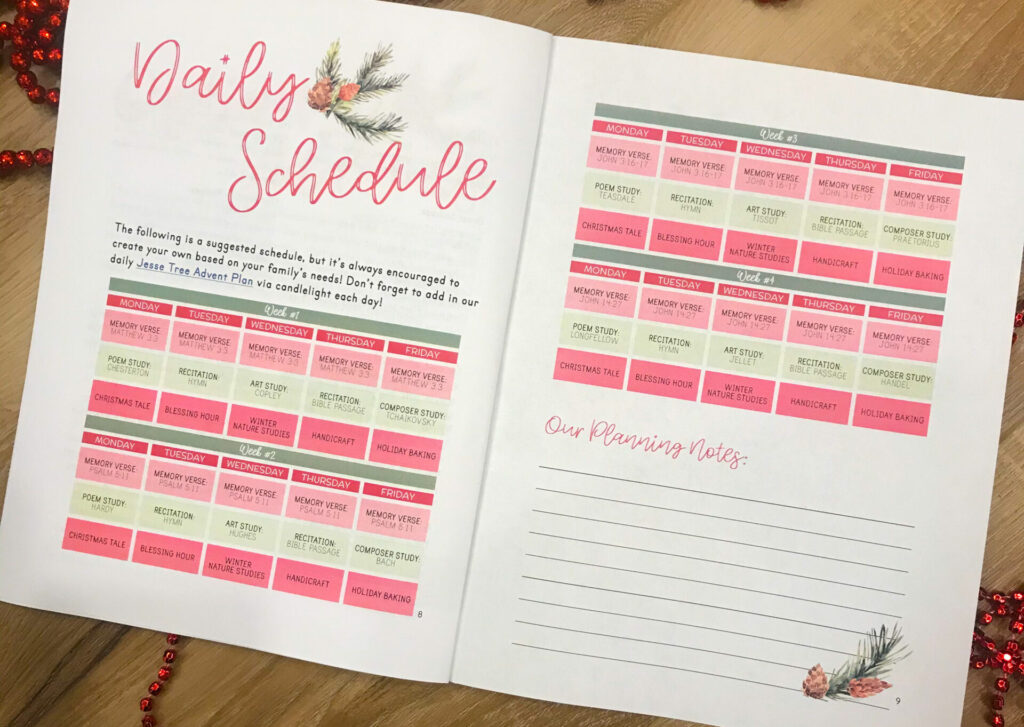 This Morning Riches set compliments our Advent Guide, utilizing the same passages, songs, etc. on relevant weeks. Our family does our Advent nightly by candlelight, so the Homeschool Companion is a gentle academic touch to our mornings. I love the concept of "Christmas School" where we set aside our normal academics in December and replace with holiday-themed riches. Using these two activities together means every day in December, from morning to night, has consistency and an other-worldly focus instead of being filled with busywork.
You can download the teacher's guide for free to see if this would fit your own homeschool. Here is what's included:
🕯️ Corresponding memory Bible verses
🕯️ Bible passage recitations about the birth of Christ
🕯️Christmas poetry studies
🕯️Artist studies of the nativity scene
🕯️Hymn studies that feature songs we'll be singing during the Jesse Tree Advent
🕯️Recommended daily schedule, how-to's, tips, and resources/links for adding on extra subjects if you'd like to add on handicrafts, baking, etc.
Education is an atmosphere, a discipline, a life.
–Charlotte Mason